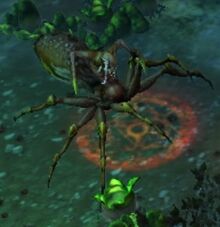 Arachna was once a leader to a powerful band of thieves, shamelessly stealing from the rich. Misfortune fell upon her when she came into contact with a powerful relic, which transformed her into the vile spider that reveals her true nature. She now resides in Loxley Caverns and will sometimes drop unique items.
Web: A ranged attack surrounds the hit opponent, slowing movement by 25% for 5 seconds.
Summon Spiderlings: summons 5 spiders, which can poison and slow 
Unique Drops
Edit
Removed from drop list! 

Ad blocker interference detected!
Wikia is a free-to-use site that makes money from advertising. We have a modified experience for viewers using ad blockers

Wikia is not accessible if you've made further modifications. Remove the custom ad blocker rule(s) and the page will load as expected.