It´s rumored that the arch enemies of Dracania are undefeatable. But that´s just because they´ve never met you! Queen Antonia has called for a competition – whoever defeats the most terrifying monsters will become one of the immortal heroes of Duria. Are you up to the challenge?
Defeat (level-appropriate) monsters and turn in quest drops to earn Insignia. Event quest givers can be found in all urban areas. Purchase travel rations to teleport directly to your desired boss. 
Progress Reward
Edit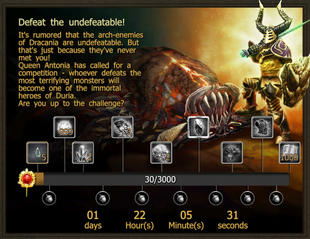 15 Insignia  - 5x Spirit Stones
45 Insignia - 30
90 Insignia -  x999 Essences of Vitality Abduction
155 Insignia - Red Essences Crystal x2
240 Insignia - 40
345 Insignia - Gem bag (flawed, splintered) x2
450 Insignia - 50
625 Insignia - Winter Solstice gem (splintered or polished) x2
810 Insignia - 60
1025 Insignia - Jewel of Fury, gem
1270 Insignia - 80
1545 Insignia - Large gem bag (normal or polished)
1855 Insignia -  90
2200 Insignia - Dark Heart Fragment 2
2580 Insignia -  100
3000 Insignia - 1000 Knowledge
---
Total =

 450
Bog Gobbler

Edit
Darbmoor

Relic-Guardian Branard

Edit
Grimmagstone

The Old Stag

Edit
Swerdfield Pastures

Talking Skeleton Warrior

Edit
Silfmoor

Dragonbrood Golden-horned Guard

Edit
Burning Coast
Iron Forest

Librarian B'Alub

Edit
Heart of Atlantis
Ad blocker interference detected!
Wikia is a free-to-use site that makes money from advertising. We have a modified experience for viewers using ad blockers

Wikia is not accessible if you've made further modifications. Remove the custom ad blocker rule(s) and the page will load as expected.