"Are there no heroes? Or do the last heroes lie in eternal rest under Kingshill?"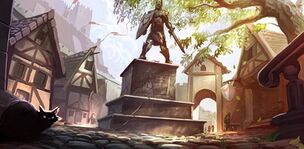 Long ago, Heredur the great commander ordered the construction of a fortress, thus severing the ties to the dying empire and crowning himself king of Duria. Today in 1190, whispers of impending war flutter about the streets, behind the high walls of Kingshill. While the king sits idly by, attending only to matches in the arena, a forgotten cult schemes in the shadows, and fear slowly begins to spread. Prince Aldred, the kingdom's last hope, hasn't been sighted since entering the city's catacombs. The priests remain persistently silent, denying what they know and fear.
Level Range
Edit
7-17
Urban Areas
Edit
Sealed Areas
Edit
Final Boss
Edit
Ad blocker interference detected!
Wikia is a free-to-use site that makes money from advertising. We have a modified experience for viewers using ad blockers

Wikia is not accessible if you've made further modifications. Remove the custom ad blocker rule(s) and the page will load as expected.