December 29, 2016 - December 31, 2016
January 27, 2017 - January 29, 2017
February 26, 2017 - February 28, 2017
March 27, 2017 - March 29, 2017
April 26, 2017 - April 28, 2017
May 25, 2017 - May 27, 2017
June 23, 2017 - June 25, 2017

July 23, 2017 - July 25, 2017
August 21, 2017 - August 23, 2017
September 20, 2017 - September 22, 2017
October 19, 2017 - October 21, 2017
November 18, 2017 - November 20, 2017
December 18, 2017 - December 20, 2017
Note: These are the real-life new moon phases, in-game dates for the event may be different.


Preview: Upcoming new new new new new New Moon Progress Bar
To be updated!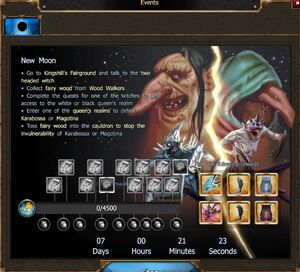 Total =

500 + 8x
Magical New Moon Scroll + 2x
Lesser Rune of Celerity

Travel to the mysterious Blackborg with a help of Thabo's realm magic
Collect Fairy Wood from Wood Wallkers
Complete the quests for one of the witches to get access to the white or black queen's realm
Enter one of the queen's realms to defeat Karabossa or Magotina
Toss Fairy Wood into the cauldron to stop the invulnerability of Karabossa or Magotina
Collect lunar blossoms and exchange them for New Moon equipment
Blackborg(new)
Edit
Pummrana/Ceridwen
Edit
White Queen's Frozen Realm
Edit
Black Queen´s Gloomy Realm
Edit
New Moon Uniques
Edit

Items from the Witch Chaser Armor set and Weapon can be dropped by White Queen Karabossa during the event. Items will scale to player's level (10-50).

Items from the Brutality of the Enforcer set can be dropped by Black Queen Magotina during the event. Items will scale to player's level (10-50).
Discontinued! 

Additional New Moon Items:
Edit
Update - With the new event changes you can finish the both quests at same time.
Each New Moon you will have a choice, either to follow Pumranna (left head) or Ceridwen (right head). You can complete only one questline per month, which grants you access to Karabossa or Magotina respectively.
Ad blocker interference detected!
Wikia is a free-to-use site that makes money from advertising. We have a modified experience for viewers using ad blockers

Wikia is not accessible if you've made further modifications. Remove the custom ad blocker rule(s) and the page will load as expected.