March 26, 2013 - April 8, 2013 Terrifying Shadows - Antonia's Abduction
Sargon the Terrible is back! Sargon terrifies the land of Duria. He kidnapped Antonia and carried her to his castle. Group up with your friends and fight for her safety.
Progressbar Rewards:
Edit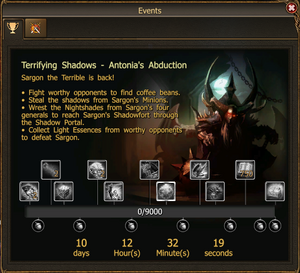 Draken = 730 total
50 shadows = 2 gemstone bag, flawed or splintered
310 shadows = 2 amphorae keys
490 shadows = Shadow Portal
1060 shadows = 2 Gem bags, splintered or simple
1405 shadows = Attack!, Emote
2335 shadows = Shadow Steed, Mount
2870 shadows = Shadow Stone, Gem
4210 shadows = Shadow minion pauldrons, costume
4960 shadows = Large gemstone bag, normal or polished
6740 shadows = 750 Knowledge
9000 shadows = Chest of Terrifying Armor, Sargon's Pauldrons
Locations
Edit
Swerdfield Pastures at Night
Basic Info
Type
Event dungeon
Monster Levels
1-40 (scales to player level)
Nearest Urban Area
Kingshill (north)

Sargon's Shadowfort
Basic Info
Type
Event dungeon
Monster Levels
1-40 (scales to player level)
Chests
Festive Amphora
Unique Boss
Sargon
Event Rewards
Edit
Others
Icon
Type
Name
Description
Location
Cloak
Cloak of Gloom

Increases health by: 3%
Increases travel speed by: 3%
Increases attack speed by: 3%
+333 Increased Andermagic resistance

Sargon Drop
Costume
Antonia's Glamorous Gown
The Queen of Duria no longer has any need for this old dress. She is offering it to her rescuer as a sign of her thanks. What an honor!
Quest: Antonia's Abduction
Costume
Shadow Minion
+++

Disguise yourself as one of Sargon's Minions.

Festive Amphora + Progressbar + Sargon Drop + Champion drop
Emote
Power of the heavens
You have the power of all the heavens on our side. Let your sword be the beacon and watch as your enemies shudder.
Sargon drop
Emote
Attack!
Use this battle cry to call your allies into battle with you.
Event progress reward
Emote
Laughing Fit
Use a Laughing Attack to show our enemies how little respect you have for them.
Sargon's Trunk
Gem
Shadow Stone

+33 Increased Andermagic resistance

Progress reward
Mount
Shadow Steed
Traverse the countryside mounted atop you Shadow Steed.
Progress reward
Easter Eggs (spoilers)
Edit
Thanks to those who scouted out these sites. Images from the German Forums
Click these spots on the event maps to receive 10 bonus shadows. Only 1 person per group can claim each reward.
Swerdfield Pastures at Night
Edit
Sargon's Shadowfort
Edit
Ad blocker interference detected!
Wikia is a free-to-use site that makes money from advertising. We have a modified experience for viewers using ad blockers

Wikia is not accessible if you've made further modifications. Remove the custom ad blocker rule(s) and the page will load as expected.