Test out new events and get a glimpse of new content on the Test Server:
stablebuild.drakensang.com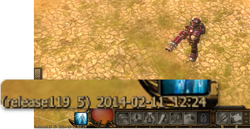 Find the current release information by looking on the bottom left corner. Players with an orange name are Administrators and employees of Bigpoint.
New content in the test server can be found in the New Pages

Bonus Codes:

SLAYEROFDRACANIA
DSOADVENT2017
GRINCHLOOT
GAMEOFTHROWS
DANCINGINSNOW
SNOWWHITEDRASA
CHRISTMASKEY
MIGHTYCHRISTMAS
SNOWFLOCKE
NUTCRACK
SANTASKEY
DSO2K17
JEWELBELLROCK

Events:


Winter Solstice Festival 2017


Upcoming :


R202
How to Play via Client?
Windows
Right click on the client icon in your desktop.
Left click Properties
Select the 2nd tab "Shortcut"
add a -stable in the place where it says "Target"
click OK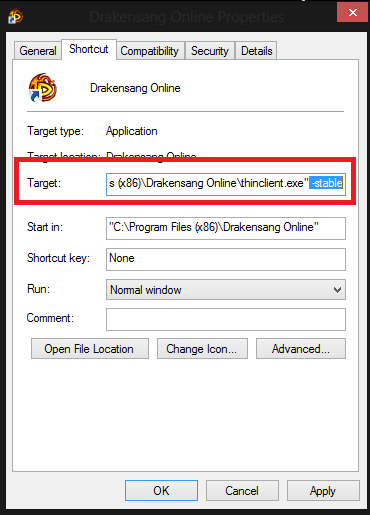 Mac
Launch the terminal.
Go to the application directory :
cd /Applications/drakensangonline.app/Contents/MacOS/
Run command with the "enter" key
Start the client with the argument " -stable "
./drakensangonline -stable
Run command with the "enter" key
Ad blocker interference detected!
Wikia is a free-to-use site that makes money from advertising. We have a modified experience for viewers using ad blockers

Wikia is not accessible if you've made further modifications. Remove the custom ad blocker rule(s) and the page will load as expected.