Wishing Star
The wishing star helps you complete the Arachna, Heredur, Bearach or M'Edusa Doll. You can use it as a substitute for one missing ingredient to craft one of these pets.
Selling Price: Not for sale
Obtained Through: Defeat the Undefeatable XI
4500 Insignia of Honor

A "Joker item" for: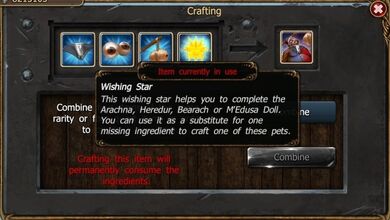 Ad blocker interference detected!
Wikia is a free-to-use site that makes money from advertising. We have a modified experience for viewers using ad blockers

Wikia is not accessible if you've made further modifications. Remove the custom ad blocker rule(s) and the page will load as expected.